For wildlife and nature lovers, the Galapagos Islands are one of the world's ultimate destinations. Swimming with sea lions, penguins, sea turtles, and marine iguanas are just a regular part of your day. And while visitors are advised to remain at least six feet away from wildlife to minimize any human impact, the animals haven't received that message yet and fearlessly approach, nonchalantly walk by or playfully swim past, oblivious to your intrusion into their world.
Getting to this isolated archipelago 600 miles west of Ecuador requires at least two flights — one (or more legs) from the U.S. mainland to Quito or Guayaquil, Ecuador, then another 1.5-2.5 hour flight to Baltra Island in the Galapagos. All flights to the Galapagos leave from either of these two cities and an overnight or long layover in an airport is likely required in order to coordinate flight times.
Land-Based Tours
A land-based visit offers many advantages for families with younger children who may not yet have the stamina or focus for a multi-day cruise. From the Galapagos' Baltra Island Airport, it's a fifteen-minute bus ride, five-minute ferry ride, and 45-minute Toyota-pickup/taxi ride to the bustling port town of Puerto Ayora on the south side of Santa Cruz Island. Santa Cruz is the main hub for the Galapagos and most developed island with a population of 20,000. Accommodations in Puerto Ayora consist of bed and breakfasts, guest houses and small hotels. The town is easily walkable with many casual open-air restaurants, bars, and souvenir shops lining the waterfront around the municipal pier and picturesque harbor filled with small yacht cruise ships, dive boats, and a standing lineup of water taxis. Don't be surprised by first impressions. While you may catch a glimpse of Galapagos Giant Tortoises on your journey across the island, you won't see the pristine, natural environment and incredible wildlife you expected until you begin to venture out into the National Park and Marine Reserve.
Finch Bay Galapagos Hotel
The Finch Bay Galapagos Hotel is located a short water taxi ride from the municipal pier in a quiet, carless area of Puerto Ayora and offers one of the only true resort experiences in the Galapagos. Unlike other accommodations, the Finch Bay has its own pool, bar, restaurant, and tranquil beachfront location. Water taxis run continuously from Puerto Ayora for $.60 daytime and $1 at night. Finch Bay operates its own on-demand water taxi for guests and meets you at the pier upon first arriving. From the water taxi stop, Finch Bay staff take charge of your luggage while you stroll along a sandy path for five minutes or so, past other small inns and restaurants, mangrove forests, iguana nesting sites, and brambly finch habitats until you reach a pretty public beach on a protected bay and low wooden entry gate to the outdoor pool and natural gardens of the Finch Bay Galapagos Hotel.
The friendly, 27-room hotel boasts a long history of hospitality and environmental leadership in the Galapagos and earned the prestigious World Legacy Award from National Geographic for its dedication to preserving and enhancing the fragile island environment and utilizing green technology. The hotel operates its own water treatment and desalination plant, created a network of rainwater collection canals, installed solar water heaters, and even tends its own energy-efficient organic herb and vegetable garden used by the chef to create the day's cuisine.
Garden rooms feature simple, comfortable accommodations and covered porches with hammocks, ideal for finch-watching from your room. Finch Bay Suites are worth the splurge, remodeled with new baths, sitting areas, balconies, and superb views overlooking the bay and setting sun. Suites can be interconnected for families.
Breakfast buffet, lunch and a highly acclaimed prix-fix dinner are served in the cozy, garden restaurant. Happy hour at the outdoor bar is 4:00-7:00 p.m. daily.
Each day a different selection of naturalist-guided tours are posted on a chalkboard at the reception desk. These may include visiting sites on the island or a day trip on the resort's own 20-passenger yacht, the Sea Lion, offering an excellent way to explore the wildlife and geography of nearby islands without an overnight cruise. Closest islands are North Seymour, South Plaza, Santa Fe, and Bartolome. Day cruises typically include lunch and snorkeling.
The Finch Bay Galapagos Hotel offers a variety of options to suit guests' preferences. Choose from bed-and-breakfast-style rates or a variety of 3-7 night all-inclusive tour programs which include day cruises aboard the Sea Lion as well as naturalist-guided tours on Santa Cruz Island. A week-long Island Hopping Program combines a stay at the Finch Bay with additional nights at Scalesia Lodge on Isabela Island.
Unlike most Galapagos Islands that require a naturalist to accompany visitors, Santa Cruz Island has a number of unique sites that can be explored independently giving families the flexibility to travel at their own pace. The hotel's pool, beach, bar, and restaurant, along with kayaks and snorkeling gear on site, allow kids and parents time to combine their sightseeing (entailing lots of walking) with leisure time to enjoy the hotel's own amenities, wildlife and scenery.
Our favorite local sites included the Charles Darwin Research Station, Las Grietas, the lively fish market in Puerto Ayora, giant tortoise reserve in the Highlands, and Tortuga Bay Beach.
Las Grietas
The walk up to Las Grietas, a steep volcanic canyon, begins right from the beach at Finch Bay. For a special experience, bring gear from the hotel to snorkel in the cool, clear mix of fresh and ocean water in the canyon. On the rocky trail, you will pass a crystallized pink salt pond (and unexpected makeshift bar), mangrove forests, and spot many lava lizards and finches among the tall opuntia (prickly-pear) cactus groves.
Tortuga Bay Beach
From the trailhead near downtown Puerto Ayora, Tortuga Bay Beach is a 1.5-mile walk down a boardwalk of neat pavers. Try to avoid mid-day as there is little shade along the trail, but you will be rewarded with a magnificent vast beach of exceptionally fine white sand. The surf was wildly rough with an occasional marine iguana swimming by, and the beach is known locally for excellent surfing. Keep walking another half mile along the crescent-shaped beach to a protected area and you will find dozens of marine iguanas swimming, spitting, sunning, and sleeping under the shaded manzanilla grove. Continue behind the preserve to a beautiful, calm, quiet cove frequented by sea turtles and ideal for snorkeling and kayaking. Kayaks are available for rent at the far end of the cove.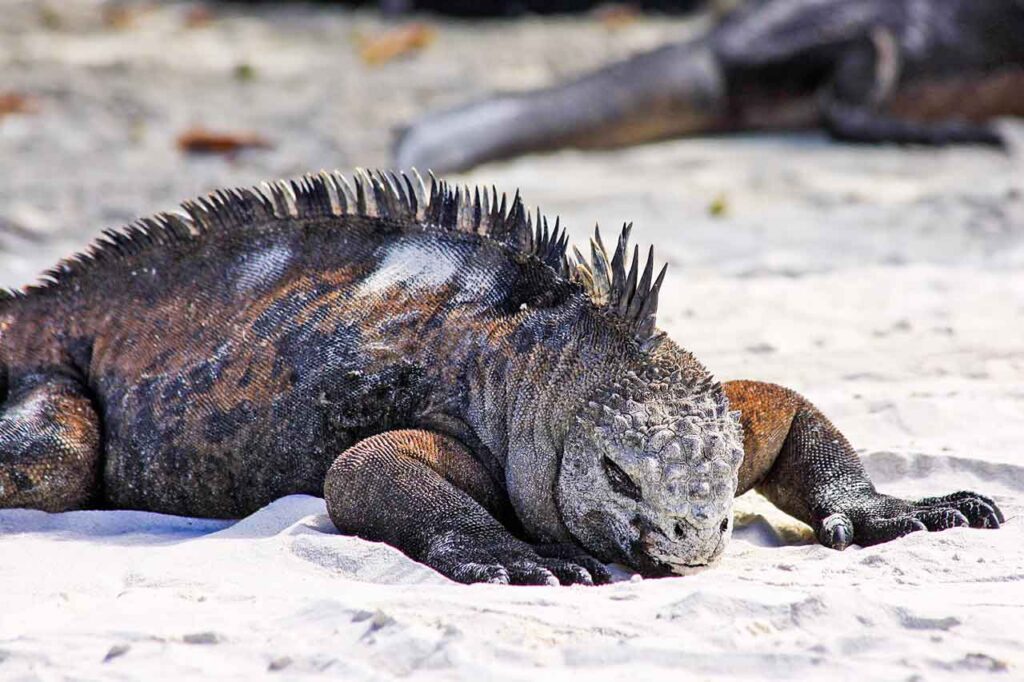 When to Visit
The Galapagos Islands are a year round destination with two seasons—dry and wet. The unique marine environment is influenced by five major ocean currents. When the Humboldt Current predominates during the dry season from July to November, it brings cooler water from Antarctica, causing an upwelling of nutrients to the surface. The huge quantity of phyto-plankton supports a diversity and quantity of life seen in few places on Earth, and visitors during the dry season may benefit from even more wildlife sightings. Seas tend to be rougher then and a wetsuit (available to rent on cruise ships or bring your own) is highly recommended for snorkeling. The wet season lasts from December to May/June and brings high clouds, rain and more humidity, but also brings warmer and calmer waters and more lush vegetation. School vacations and summer are the busiest times to visit.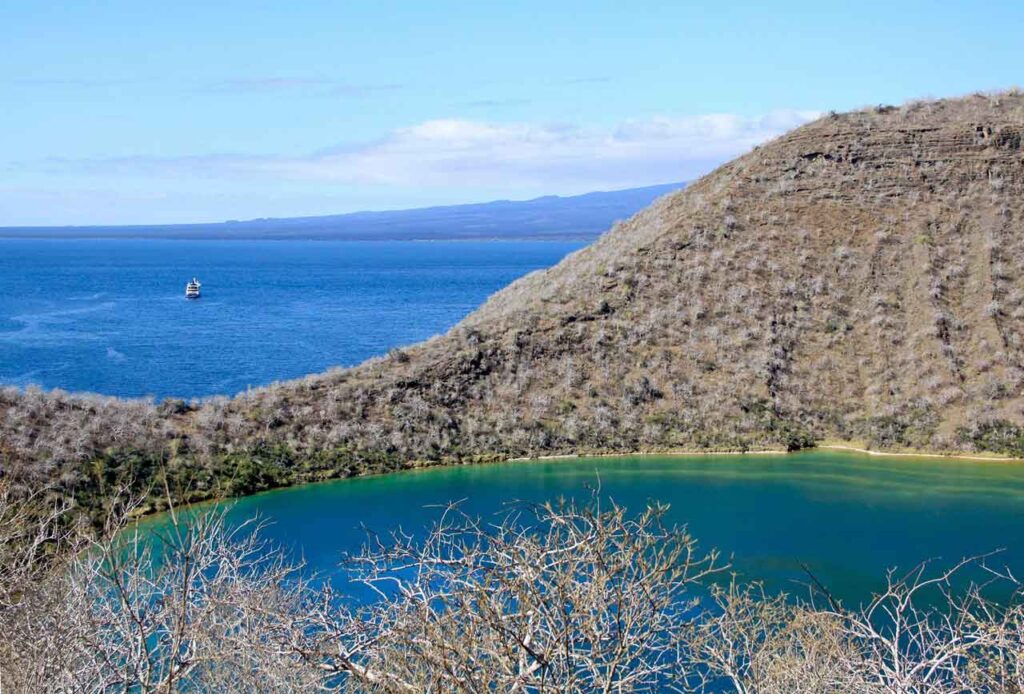 Cruising the Galapagos
While small ship cruising is not for everyone, without question, a multi-day cruise is the best way to tour the Galapagos and the only way to access the farthest coasts of the western islands of Isabela and Fernandina and the outlying islands of Genovesa and Espanola. Most cruise ships sleep 16-20 passengers and you will want to carefully compare the differences in quality of ships, guides, food, comfort and stability. Choices range from budget to luxury class. Minimum age for small ships is frequently 15 on regular excursions, but select dates are geared especially for families. See Fast Facts below for the link to Columbia Travel, a very helpful website for descriptions of ships, rate comparisons, and current discounts.
Our family chose Metropolitan Touring's largest luxury ship, the refurbished Santa Cruz II, with 50 cabins accommodating 90 guests over five decks. Cruise ships of 100 passengers are the largest ships allowed in the Galapagos. In an effort to minimize the negative impact of the Islands' growing population and tourism business, the National Park Service limits the number of ships cruising the Islands, strictly controls landing areas as well as the number of ships allowed in a landing area at the same time (one large ship or maximum of three-to-four 16-20 passenger ships) and requires licensed guides to supervise all visitors.
Staterooms on the Santa Cruz II are comfortably roomy with extra-large picture windows. There are three larger suites on the top floor. The public areas include a bar/lounge where we met each evening for briefings on the next day's activities, outdoor tables and lounge chairs, sundeck, a large library, two hot tubs open 24/7, dining room, and self-serve dryers that came in handy for drying swimsuits and other wet clothes when necessary.
Upon boarding, guests are assigned to the same guide and panga group for the entire trip. The pangas (or Zodiacs) are used daily for disembarking and making wet or dry landings at each stop on the itinerary. We all learned the safety arm hold our first day, as getting on and off the panga in choppy waters or from rocky terrain often required good mobility and a steadying extra hand. As Mara, our fearless leader informed us our first evening on board, "You are on an expedition. You can rest again on Monday." So began an active, perfectly tuned schedule of island hopping. Typically, we received a breakfast announcement at 6:45 a.m., then boarded our panga for the morning excursion by 8:00 a.m. Activities might include a panga tour exploring the wildlife and natural history along the coast, a walk, kayak or snorkel, all guided by highly experienced and knowledgeable naturalists fluent in the language of their group. We returned for a buffet lunch on board while the ship set sail for its next port. After-lunch activities might include briefings, a science talk, photography workshop, or time to lounge until the afternoon landing, which often kept us off exploring until the sun began to set. Our cruise was fortunate to be accompanied by Dr. Gabriele Kerber, a German scientist with studies in biology and zoology and Ph.D. in neuroscience, who in addition to updating our guides on the latest scientific research, offered passengers two insightful presentations on evolution and the effects of climate change in the Galapagos. Dr. Kerber, fluent in German and English, was readily available for questions onboard and during excursions. The cruise also offered special Young Explorers programs for the kids onboard, mostly pre-teens and teens, which included activities like cooking with the chef, journalling, movies, and games in the Discovery Center.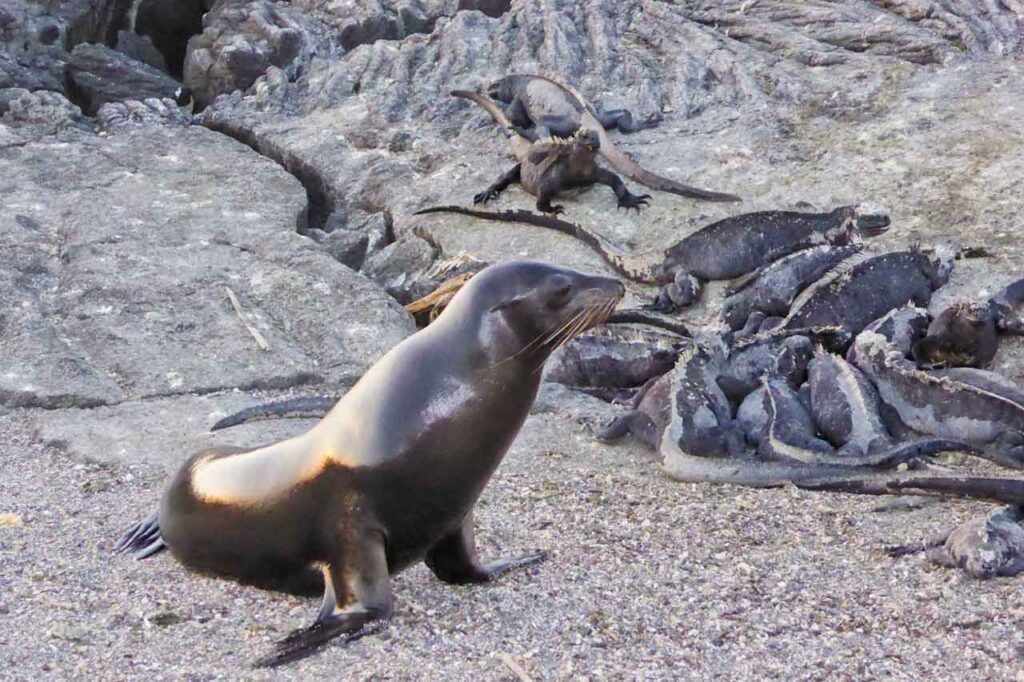 The Big 15
After consulting with scholars, naturalist guides, and seasoned residents, Metropolitan Touring created their own guide to the most iconic species in the Galapagos and dubbed them the "Big 15." Only a 7-day or longer cruise could cover them all, but it is possible to see most of them on a 5- or 6-day cruise. They are: Galapagos Albatross, Blue-Footed Booby, Nazca Booby, Red-Footed Booby, Flightless Cormorant, American Flamingo, Great and Magnificent Frigatebirds, Galapagos Hawk, Land Iguana, Marine Iguana, Santa Fe Land Iguana, Galapagos Penguin, Galapagos Sea Lion, Galapagos Fur Seal, and Galapagos Giant Tortoise. You can find the Big 15 Guide online along with a map of cruises to take and islands to visit to see them. Each species has a fascinating story, and some, like the Galapagos Albatross, are found on only one island (Espanola) at a specific time of year (April-Nov.). The cruise itinerary was well-planned to include a close-up look at a different marine or land habitat at each stop, so every day offered something new and interesting. Our late afternoon walk across the black lava fields of Fernandina, strolling among hundreds of lazing marine iguanas, sea lions, nesting flightless cormorants, hunting Galapagos hawk, and diving blue-footed boobies, was an amazing experience and one I thought could not be surpassed. Yet the next day's kayak with sea lions and snorkel in the deep waters off Floreana among darting and diving penguins, sea lions, turtles and masses of tropical fish were just as spectacular. Without question, you will come away from a trip to the Galapagos with a renewed awe for nature and a deep awareness of man's crucial responsibility to preserve and protect it.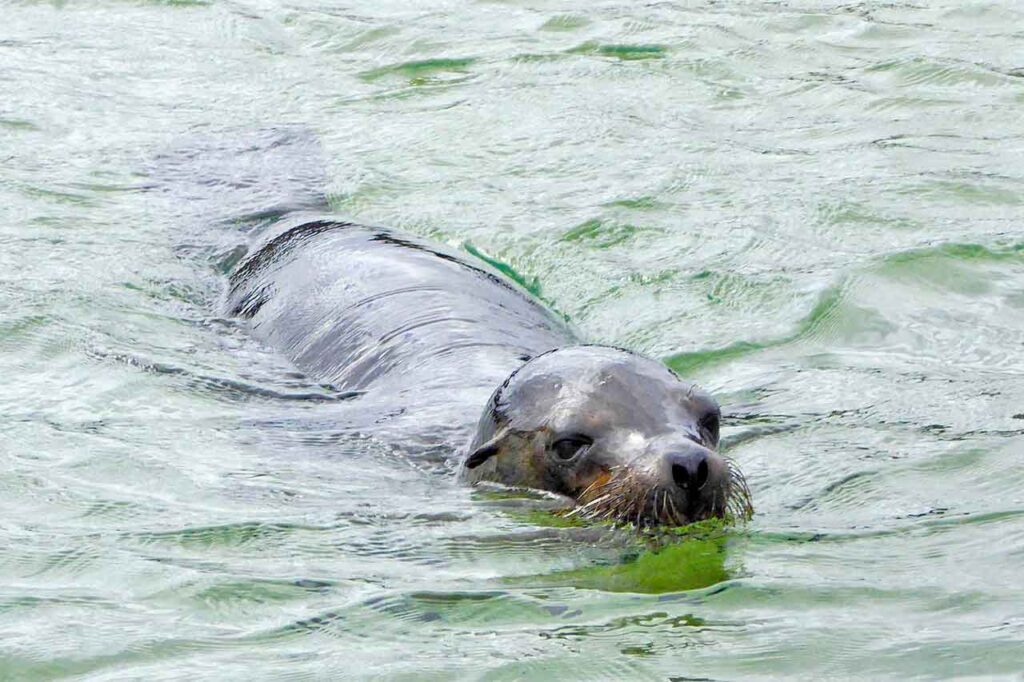 The 90-passenger Santa Cruz II offers 4 and 5 night itineraries. Metropolitan Touring also offers 4- to 7-night itineraries on La Pinta, accommodating 48 guests in 24 cabins; and 4- to 8-night itineraries on Isabela II, accommodating 40 guests in 20 guest cabins. Metropolitan Touring's website is also an excellent source of information about the Galapagos Islands in general and helpful for overall trip planning.
FAST FACTS
GETTING THERE
Airlines from Quito-Guayaquil to Galapagos Islands:
STAY
CRUISE
Metropolitan Touring
Cruises, packages and last minute deals. Website is also an excellent source for general Galapagos information.
888.572.0166
PLAN
DO